If you're tired of monotonous dishes, running out of ideas for family meals, or love trying new dishes over and over again, then it's time to try a typical Macedonian dish. The one you can call yourself or be pampered in a real Macedonian restaurant a few minutes drive from Ljubljana.
Macedonia is a land of sunshine, friendly and relaxed people, a rich cultural heritage and excellent cuisine. Ajvar, burek and šobska salad are certainly among the most recognizable dishes, but Macedonian cuisine offers much more than that – from delicious spreads, meat and vegetable dishes to divine desserts. Read on to find out how to make the traditional Macedonian dish tavče gravče and where in Slovenia you can taste some of this Macedonian tradition and create delicious memories.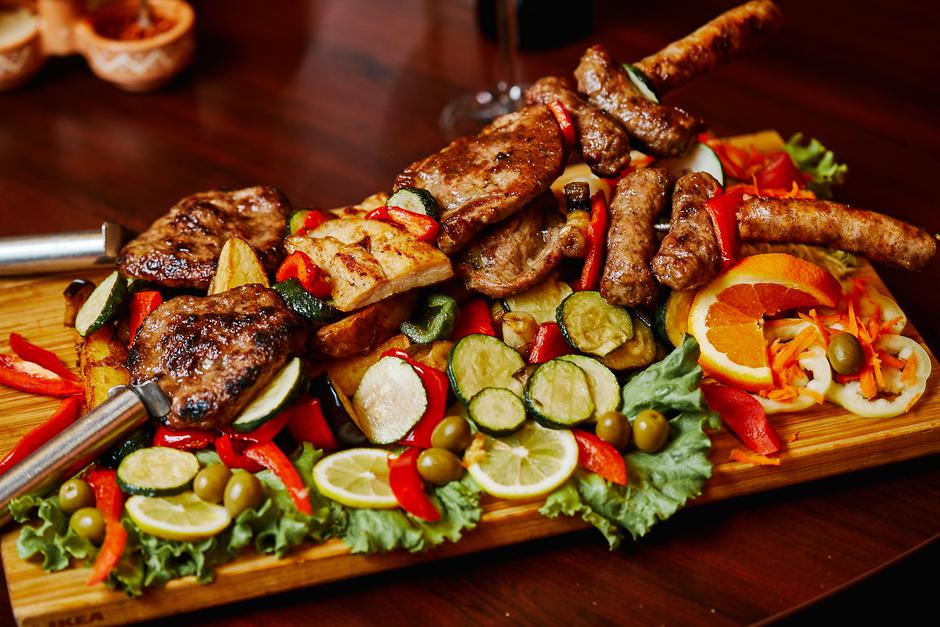 Cammeo Archives


A simple Macedonian dish you can make yourself at home
If you smell Macedonian cuisine, you can prepare one of their typical dishes at home. One of the simplest, but very tasty options, is tavče gravče, a traditional Macedonian dish originating in northern Macedonia. Over the years, several versions of it have emerged – depending on what vegetables and spices you add to the main ingredient: the beans. However, it is essential to prepare the dish in a clay pot and bake it in the oven.
Recipe for 4 people:
500 g of beans (according to the original recipe it must be of the tattoo type, but you can also choose brown or even white beans)
a large onion
half a head of garlic
spice up the red pepper, if desired also a pinch of hot red pepper
salt and pepper
bay leaves
parsley
oil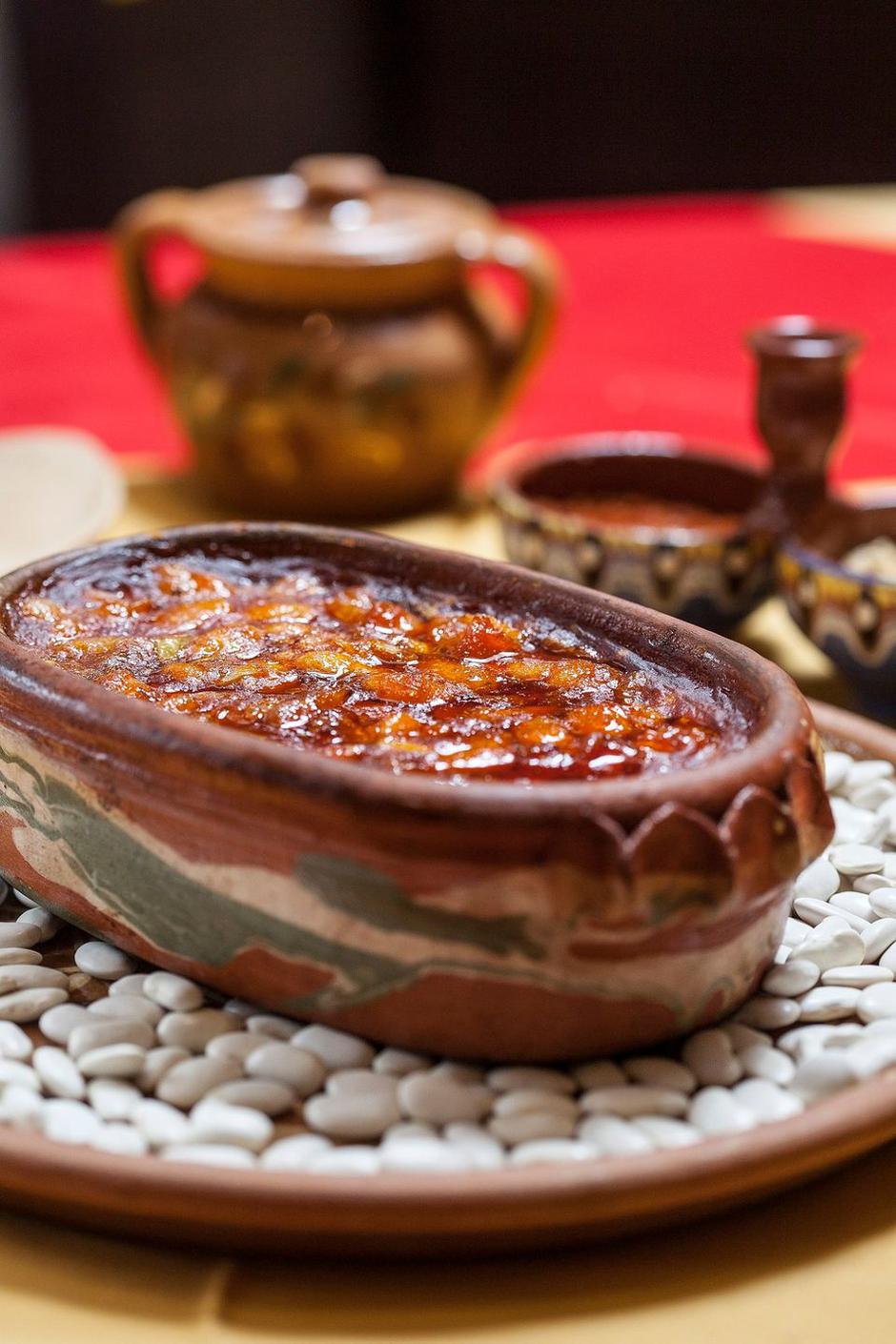 Cammeo Archives


Preparation:
Soak the beans the night before or at least a few hours before making the dish to soften them, then cook them in a lightly salted pot in a pot until tender. When cooked, drain the excess water and sauté the finely chopped onion and garlic in a pan on a few tablespoons of oil. Salt, pepper and add chopped parsley to the onion and garlic while cooking, then add the cooked beans and the rest of the spices to the mixture: red pepper and bay leaf. Mix everything well and place it in a clay pot covered with a lid. Bake the dish at 200 degrees Celsius for about half an hour or until the dish thickens.
Some additional tips:
Some recipes mention mint and parsley as essential spices for this recognizable Macedonian dish. Still others add different types of vegetables (like carrots, peppers or fresh tomatoes) to the basic ingredients – beans. This traditional Macedonian dish goes well with smoked sausages or ribs.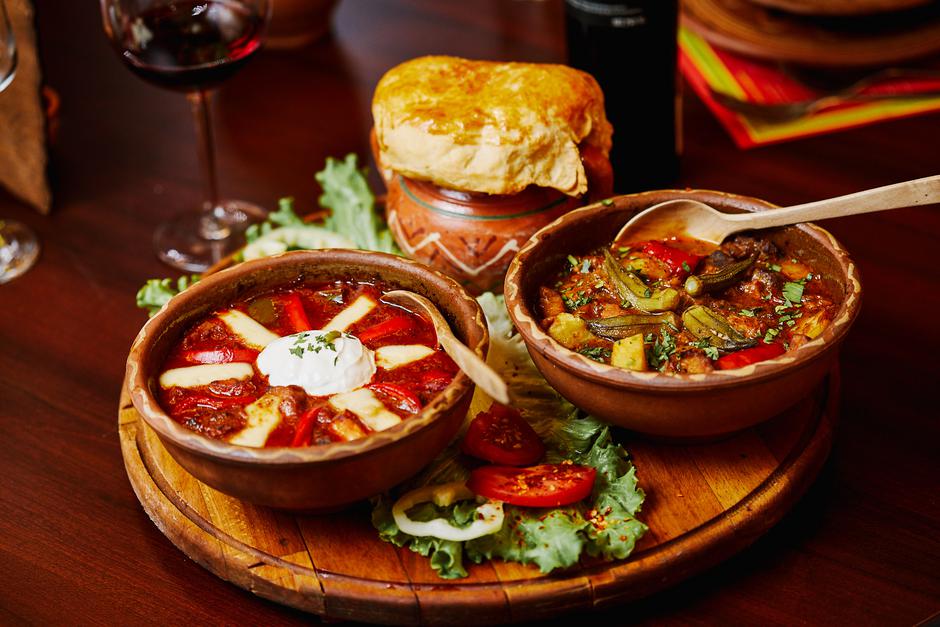 Cammeo Archives


According to the touch of Macedonian tradition, just a shot from Ljubljana
Did you drool while reading the recipe above? Would you like to try this Macedonian specialty, but you should buy a clay pot first, because you don't have one at home, and besides, you're a little worried that your dish will not bring luck?
Then it is best to visit the real Macedonian restaurant Sv. Nikola, which is located in Trzin and instantly evokes a touch of Macedonian tradition. "The common thread of our restaurant is to present a rich range of Macedonian gastronomic treasures and to emphasize the importance of preserving the flavors and aromas of traditional cuisines, fine wines and drinks. Intimate and pleasant atmosphere with fantastic flavors of original and traditional Macedonian recipes and the verses and melodies of Macedonian folk music make a strong and memorable impression", they promise their guests.
Dishes of the Macedonian restaurant Sv. Nikola are prepared according to original Macedonian recipes, which include a lot of varied and tasty meats, stewed vegetables and often homemade cheeses. They take you on a unique journey through Macedonia and with each new bite you will experience an unforgettable combination of flavors that will nourish your soul as well as your body.
Here are some of their mouth-watering treats, which you can see in the photo gallery below:
Now that the difficult times brought by the covida-19 pandemic are finally over and we can once again attend major events, many are also looking for a suitable venue for weddings, birthdays, confirmations, communions, family reunions. business, etc. Restaurant Sv. Nikola is ideal for this, as it can accommodate up to 150 people, and the staff will be happy to help you organize and organize everything you need to make your event truly unforgettable.
For all additional questions and reservations, please contact us by phone 030 669 992 or by e-mail info@restavracijasvetinikola.si.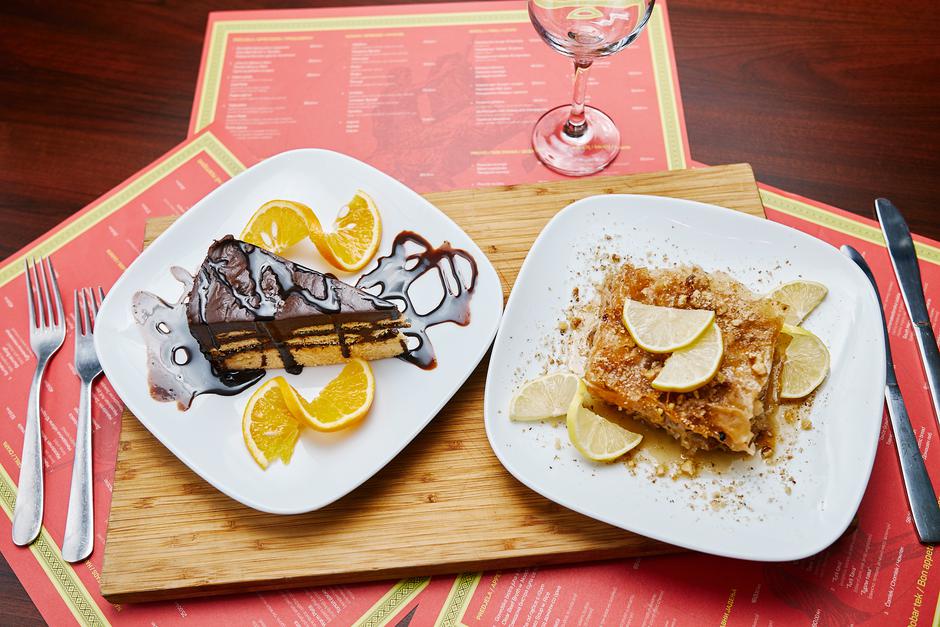 Cammeo Archives