Count on anchovies for a good salad. When we work with excellent ingredients, the rule is confirmed that quality always trumps quantity. Anchovies reign here over arugula and cherries, real treasures of marine flavor with a beautiful texture. However, even a quick garnish and crispy garlic croutons complete the holiday salad.
Read also: This is how Bine Volčič prefers to prepare a green salad
Salad with anchovies and garlic croutons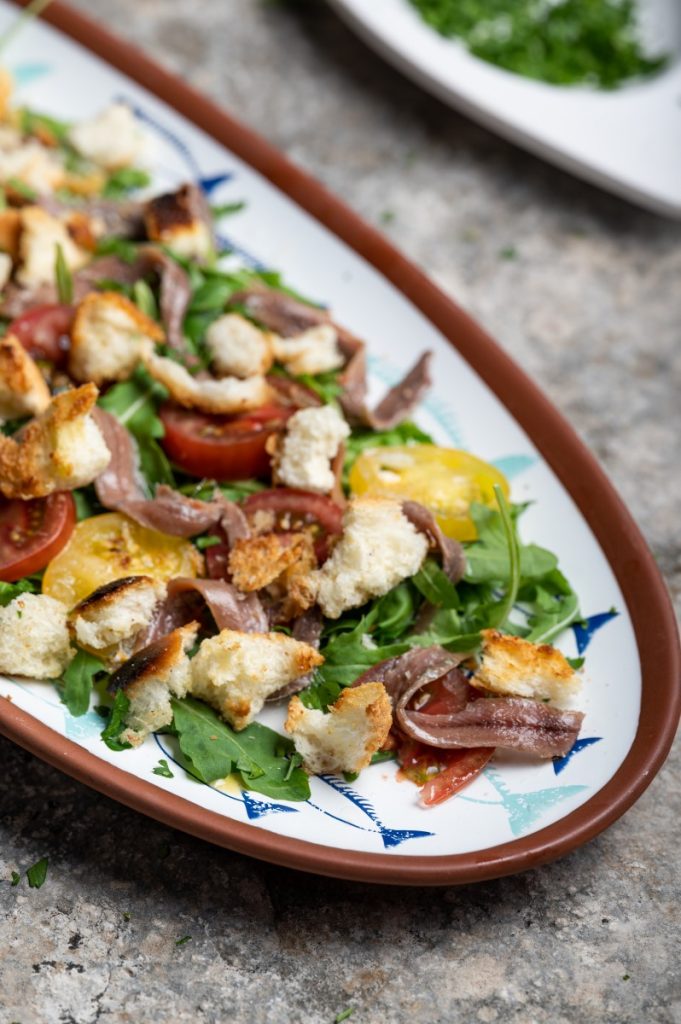 salad
100g arugula
200g cherry tomatoes
18 limed anchovies
Trim
6 tablespoons of olive oil
3 tablespoons apple cider vinegar
teaspoon of mustard
2 cloves garlic
shallots
salt pepper
Croutons
60g white bread
clove garlic
spoon of olive oil
Preparation
1. Garnish: Peel the garlic and chop finely. Peel the shallots and chop them finely.
2. In a glass with a whisk, combine the olive oil, vinegar, mustard, garlic and shallots. Add a pinch of salt and a pinch of pepper.
3. Do not over-salt the filling, as the anchovies are already extremely salty.
4. Croutons: Tear white bread with crust into bite-size pieces. In a large saucepan pour a tablespoon of olive oil and add the peeled and crushed clove of garlic. Heat the skillet over medium heat, then toss the bread slices in the hot oil. While stirring, cook them until they are golden brown.
5. Salad: sprinkle arugula on a large plate, arrange slices of cherries and anchovies. Drizzle with any amount of topping and serve.
We also recommend: Slightly different pumpkin halves from the oven, which completely impressed us (VIDEO)
Cover photo: Zbynek Pospisil / Getty Images
Onaplus.si: Hana Karim: Mom and Clay are the best teachers