I named it Carniolan Salad. I have two other compelling reasons for this, namely that the first and second roles are played by key players who reign in the Carniola region. Of course, these are potatoes and Carniolan sausages. In fact, we don't have to go far for the rest of the salad ingredients either. Greens in the salad will be provided by delicious motovilec and chicory, and the addition of healthy protein will be provided, of course, with perfect eggs.
Speaking of motovilc, it should be mentioned that this wonderful crispy salad is a rich source of minerals and vitamins. It is famous for its high amount of vitamins C, B, iron and other minerals.
We can think of our salad for lunch, because it is actually a rich and healthy meal in its composition, but it can also be very good as an early dinner, maybe in the evening we should not overdo it with sausage. According to your desires and your inspiration, you can easily adapt it to your favorite.
For a large plate of salad we need:
Motovilec
A bit of chicory
A few boiled potatoes
3 to 4 hard-boiled eggs
1 Carniolan sausage
Vinegar, oil (can be pumpkin), salt, pepper
Mustard and mayonnaise spoon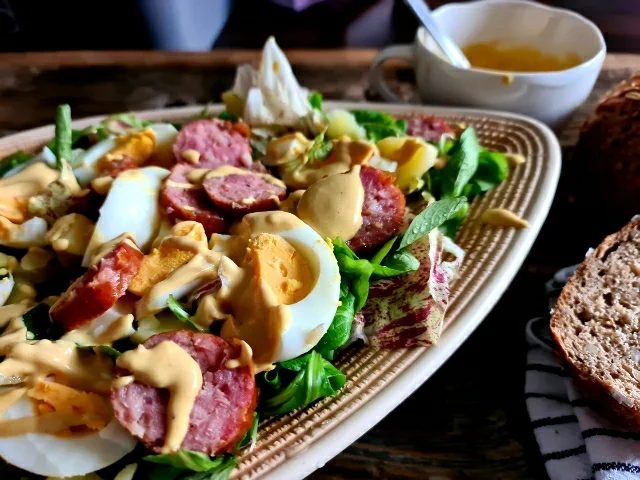 Polet's Recipe: Carniolan Salad. PHOTO: Tanja Drinovec / Delo
Preparation of the Carniolan salad:
First, cook the potatoes and eggs until soft. Clean and wash the lettuce. Finally, cook the sausage. Place the salad on a plate, the minced eggs and the warm potatoes in slices. Finally, place the sliced ​​sausage on top. Salt and coat with a garnish mixed with mustard, mayonnaise, a little oil, vinegar, salt and pepper. The best is still hot.
.