This time, with our recipes, we will go to a country a little more distant, to India, to the wonderful world of spices and perfumes. We will cook curry with chicken, which is among the most recognizable and common.
Otherwise, the main characteristic of curries is that the main ingredient is usually meat (optional) swimming in a spice-infused sauce. Of course, most of them are Indian, such as curry, turmeric, ginger, cardamom, cinnamon, coriander, various chillies, etc. These spices are often in some sort of sets, which Indian families usually put together according to their key, and this is how the dish gets its distinctive and recognizable note.
Curry is a dish that the English profitably imported from India during the period of colonialism and which has also become firmly established on our continent.
Chicken curry is a simple but healthy and tasty dish. It goes very well with rice. So we combine healthy protein with spices, and we also add rice to add the carbohydrate (starch) portion. So we have a wonderful and delicious lunch or maybe dinner.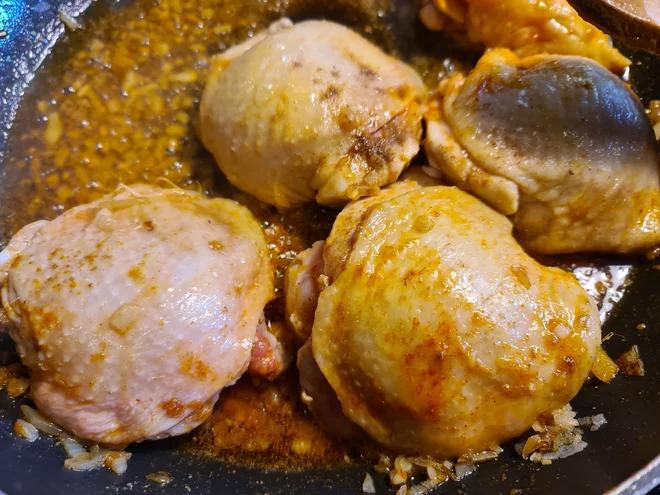 Summer recipe: Chicken curry. PHOTO: Tanja Drinovec/Delo
For the chicken curry we need:
Oil
5 to 6 pieces of chicken thighs (upper part)
Half an onion
2 cloves garlic
baby carrots
A piece of celery
A pinch of sweet paprika
Coriander, parsley, ground ginger
A pinch of cumin and ginger powder
A pinch of ground chilli
cinnamon
Salt pepper
250ml tomato puree
A spoonful of flour
A little soup base or half a soup cube
1 dl of white wine or water
2 tablespoons of sweet cream
Preparation of the chicken curry:
Rinse the chicken pieces, dry them and rub them with dry spices (cumin, curry, paprika, ginger…) Heat the oil in a frying pan and add the chopped onion. When it is a little golden, add the chicken pieces and sauté them quickly. When they are golden, take them out of the pan. Sprinkle finely chopped carrots and celery on top. Fry everything a little, add flour and cover with soup stock.
Add the tomato paste and a little later the cream to obtain a nice homogeneous sauce. Chop some parsley and garlic into it, and a bit more of all the dry spices we also sprinkled over the chicken. Finally, put the fried chicken pieces back into the sauce. Cook everything together and stir for another 40 minutes, until the chicken is very tender. Meanwhile, cook the rice and serve it all together.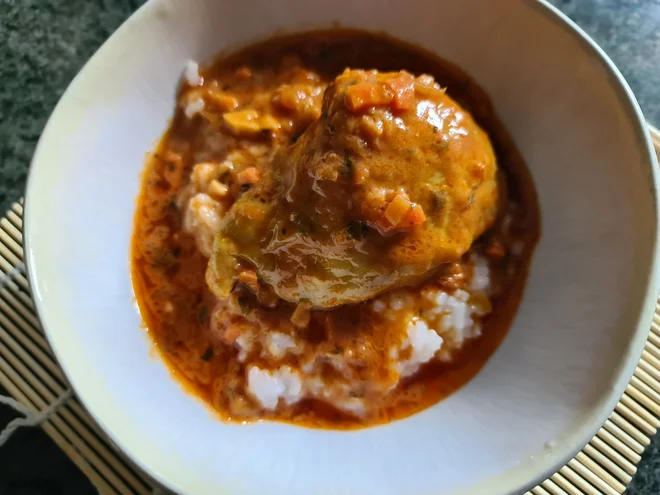 Summer recipe: Chicken curry. PHOTO: Tanja Drinovec/Delolo
.