Content is provided by Podravka
Photo: Thinkstock, Podravka
Do you think picnic masters prefer to choose the chicken? Or classic čevapčiče? Yes, they're super delicious, but more often than not it's something else that lands on the grill.
The winner among all the delicious grilled meats is…
… Neck! Do you find the preferred choice of barbecue masters unusual? Statistics say otherwise, which is no wonder, as it's one of the juiciest and most delicious cuts of meat for a barbecue feast. Any true foodie who likes to prepare picnics at the highest level knows this.
Prepare the grilled neck superbly!
How? Nothing could be easier, you just need the secret of the perfect taste. This is the Vegeta Grill for the neck, which will undoubtedly impress even the most demanding guests.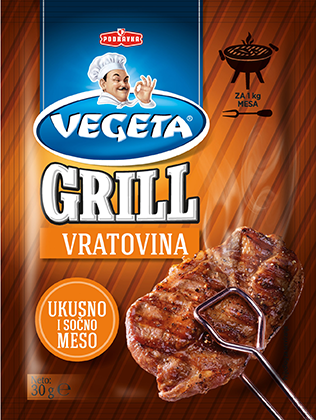 Win the affection of your friends and palates with Vegeta Grill for the neck. Sprinkle your favorite piece of grilled meat with Vegeta Grill for the neck and watch the reaction of the people around you. First there will be astonishment, then a sigh, then an explosion of excitement. Isn't this the best recipe?
No added flavor enhancer.
Convenient packaging and use.
Only the best natural ingredients.
So simple!
Instructions for preparing a kilogram of meat:
1. Sprinkle the meat with the contents of the bag. Oil it as you wish.
2. Leave to stand for about 30 minutes.
3. Cook in a pan or on the grill.
And those who like something else?
We don't all have the same tastes, some may prefer to try different specialties at a picnic, such as čevapčiči or grilled kebabs. No problem, Vegeta catered to all tastes with a wide selection of delicious pickles.



Vegeta Grill marinades will satisfy all tastes at the picnic.


Barbecue lovers will change forever
Once you try the Vegeta Grill marinades, they will become a real addiction and an indispensable company both at picnics and in the kitchen. If you love experimenting with new flavors, you will never be disappointed.
Sprinkle your grills with other Vegeta Grill prepared spices and marinades:
Tips for a perfect picnic:
Grilling the neck in a sandwich:
[video: 59241 / ]
Colorful meatball skewers:
[video: 59242 / ]
Don't be a chicken and solve the quiz!






Take the test and we'll tell you which food best suits your mood.
Read more:
Why is soaking meat so fun?
What secret do all good barbecue masters share?
Barbecue lovers have found the best invention in human history!
.