When you're out of ideas or thinking about taking your everyday cooking skills to the next level, you need advice from the right experts. And now you can hone your culinary skills with the help of three top Slovenian chefs – each of them has their own Michelin star. Uros Stefanin, Gregor Vracko in Uros Fakuc they joined forces and prepared something special. With top-notch advice and a few more surprises they have in store for you in the weeks to come, they'll help you discover your high-culinary vein.
Three culinary geniuses are at your disposal
No limits in the imagination, no limits in the choice of the best ingredients: three top Slovenian chefs will prepare interesting dishes for you, inspired by the ingredients they have chosen from the shelves of Spar.
And what will be the specialty of their flagship specialties?
Everyone will present on their plate a piece of themselves, a pinch of their creativity and a drop of vision so present in their kitchen. At the same time, they will prove that three things are important for a good dish:
Understanding tastes and how they intertwine
bold combination
Selection of the best ingredients without compromise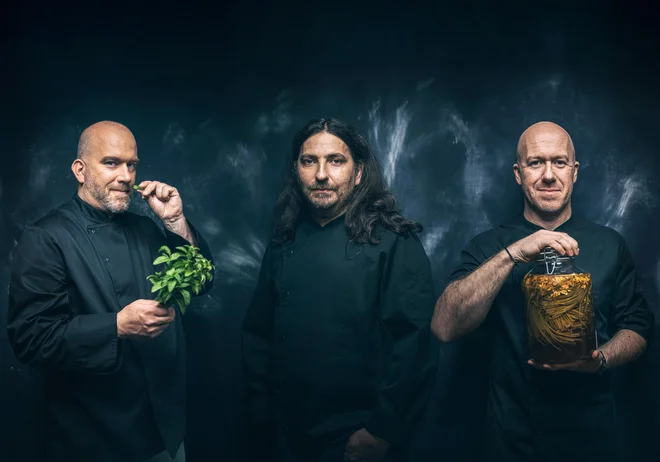 Uroš Fakuč, Gregor Vracko and Uroš Štefelin. PHOTO: SPAR Slovenia
Of Uros Fakuc extremely tasty food suggestions can be expected that are mostly based on minimalism. Namely, Uroš advocates minimal interventions in the raw materials he uses in the restaurant Dam in Kronberk near Nova Gorica. He pays a lot of attention to the fact that the ingredients are fresh and of proven origin. This means that he finds the origin of every ingredient present in his creations – from the environment in which they grow to the production process itself. He prefers to go to the family vegetable garden to get fresh vegetables.
Gregor Vracko is considered a true master of rock'n roll in the culinary world. His recipes are unexpected, full of amazing combinations of flavors and textures. Gregor's learning journey began at his parents' village inn and then he worked at breakneck pace in top restaurants in Austria, Germany, England and the United States.
Uroš Štefelin managed to evoke conviviality in his cuisine, which we all know well, even in the most sophisticated modern dishes. His common thread in the plates is a local tradition that he sips from almost forgotten ingredients, like hard red corn, which he has brought back from near oblivion and restored to a whole new reputation.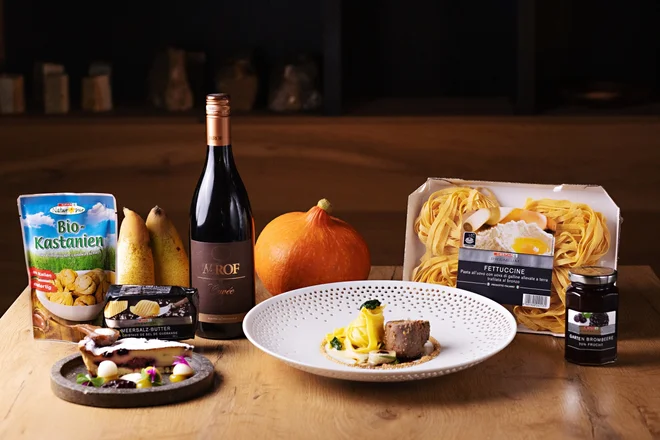 PHOTO: SPAR Slovenia
The three masters place great importance on the careful selection of ingredients, the search for the best local suppliers and the ability to extract the taste that best illustrates the environment in which the product was created. And it is in this philosophy that they have found the right partnership with SPAROM Slovenia. Their exclusive product line SPAR PREMIUM has become a great base for collaborating and creating a whole new culinary story. And in this story full of surprises and top cuisine, your creativity will also find its place.
I WANT TO KNOW MORE
Start a new culinary journey with three star recipes
In one place, you can browse a new idea and find inspiration and the right knowledge for your home kitchen creation. The master chefs have prepared a selection of top-notch recipes, which they have combined with products SPAR PREMIUM.
So you will always find the right idea for delicious lunches, sweet treats and crazy snacks. And this time, too, they listened to the flavors that resonate in our environment and resonate so strongly with traditional Slovenian cuisine. Of course in a modern disguise and with the character of the three great masters.
Check out three best ideas for a three chef lunch.
Gregor Vračko: Crispy bad ass burger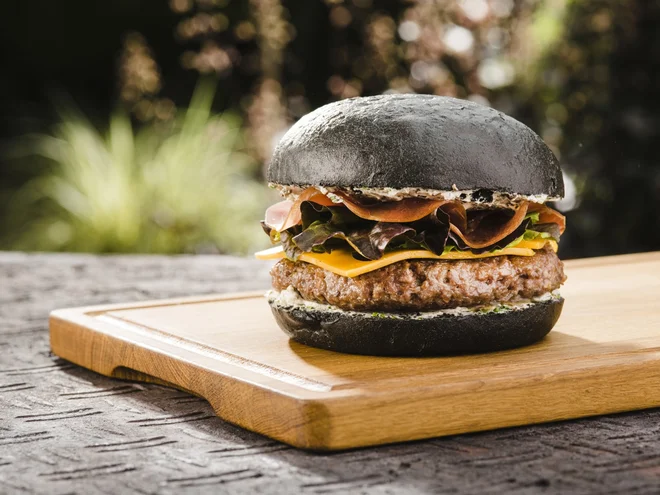 PHOTO: SPAR Slovenia
Ingredients :
4 x angus or beef burger SPAR Premium
8 SPAR Premium Cheddar Cheese Slices
4 black SPAR Premium bombs
Panorganix Mercury Salad
12 slices of SPAR Premium Beef Prosciutto
2 slices of tomato
For the truffle sauce:
160g mayonnaise
60g SPAR Premium Truffles
A teaspoon of lemon juice
Preparation:
Cut the patties and roast them gently in the toaster, on the grill or in the oven. Cook the burgers on a greased grill over medium heat, about five minutes on one side, then flip them. After cooking them for three minutes, coat each with two slices of cheese and cook for another minute or two to melt the cheese.
Cover the two halves of the bombet with truffle sauce. Place a cheese burger on the bottom half, then shredded lettuce leaves, thin slices of tomato and beef prosciutto. Cover with the other half of the bombette and press gently but firmly.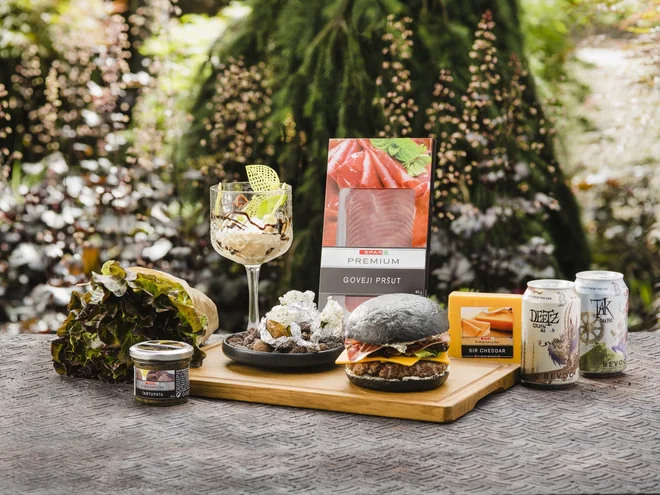 PHOTO: SPAR Slovenia
Uroš Štefelin: Bandeljc cheese and leek sauce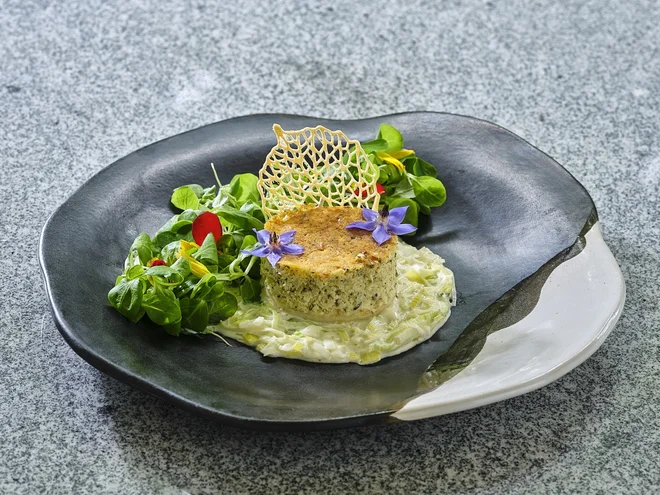 PHOTO: SPAR Slovenia
Ingredients :
3.5 dl of SPAR Premium milk
10 pure SPAR Natur* eggs
2 SPAR Natur* pure yolks
1 drop of apple cider vinegar
7 days of raw butter
1 pure SPAR Natur* lemon zest
50g sugar
Pehtran
Wise
SPAR Premium puff pastry
Leek sauce
300g leeks
140g shallots
2 dl of sweet cream
Floor
Pepper
100g motovilca SPAR
Preparation:
Cheese bun:
Stir 8 eggs into milk, add a drop of vinegar, stir and let stand at room temperature to turn into cottage cheese.
Place the gauze on a colander, sprinkle with cottage cheese and drain.
Add 2 whole eggs and 2 yolks to specially softened raw butter, add grated lemon zest, sugar and spices. Add the drained cottage cheese and mix well.
Thinly roll out the buttered dough and line the baking sheet with it. Place the mass on the dough, up to a height of about 1.5 cm.
Bake the bread for 12 minutes at 185 degrees; let it cool a little before cutting it. Serve with sour cream.
Leek sauce:
For the leek sauce, first gently sauté the finely chopped shallots. When glazed, add the finely sliced ​​leeks, stir and pour a little water over everything, cover the dish and simmer the leeks a little until they wilt.
Add the sweet cream, salt and pepper and cook in an open saucepan over low heat until the cream thickens.
Place a piece of bandel on the leek sauce and serve with the motovilce.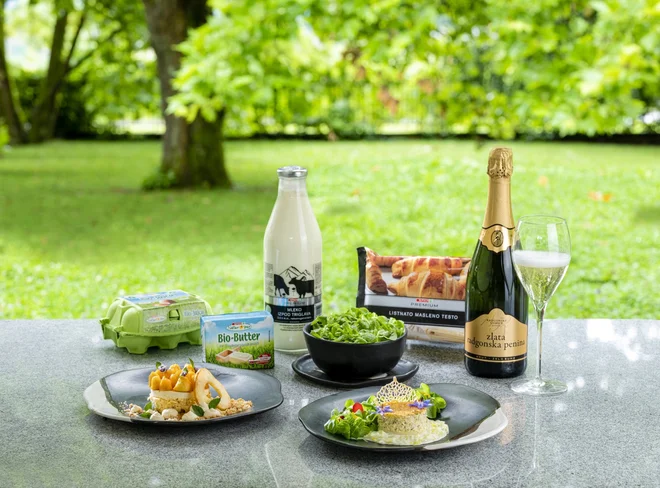 PHOTO: SPAR Slovenia
Uroš Fakuč: Fish broth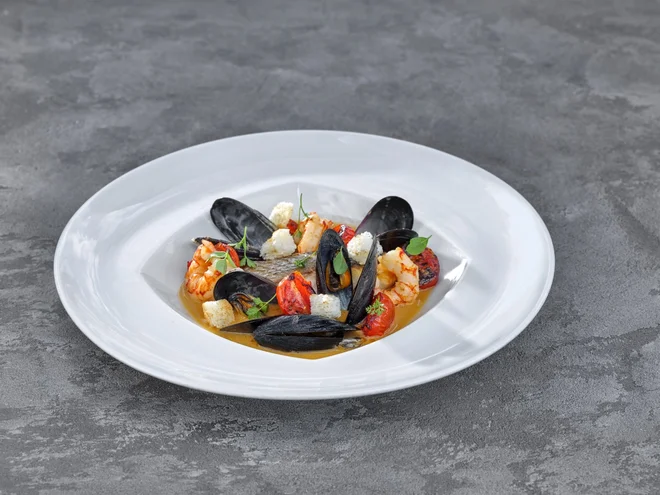 PHOTO: SPAR Slovenia
Ingredients :
1 kg of mixed white fish (I recommend large hake and red mullet, if available, otherwise we use sea bream, sea bass…)
500 g sea frog tail
400 g cleaned cuttlefish
10 prawns
1 kg of mussels
3 cloves of garlic
1 stem of green
1 carrot
1 medium white onion
A few sprigs of parsley
0.5 dl of white wine
500g tomato puree
1.5 liters of water
SPAR Premium Extra Virgin Olive Oil
Floor
Pepper
Preparation:
Prepare the white fish: peel them, cut them into fillets with a sharp knife and remove the small stones from the fillets with tweezers. You will use the heads and bones for the base of the soup and the fillets to prepare the broth in the final stage.
Cut the tails off the sea frogs, remove the skin, then cut both sides with a knife to get two fillets. Cut them into slices, keeping the cartilage of the head and tail for the soup.
Wash the shrimp, separate the head and tail, extract the tail and use a toothpick to remove the black thread – the intestinal tract.
Carrots, celery and onions cut into cubes, shake in a saucepan, add fish heads and bones and shrimp heads and shells, pour water and season with peppercorns and parsley. Cook the soup over low heat for two hours, in the meantime remove the foam that will form on the surface with a whisk. Finally strain the broth.
Meanwhile, clean the mussels: shake them in a bowl of cold water and mix well to wash them. Use a small knife to remove the curls and algae, pull their chin out, and you can scrape off the dirt with clean steel wool. Discard any shellfish that has a crushed or damaged shell.
Heat a little oil with a clove of garlic in a pan and add the mussels. Cover and cook for a few minutes, stirring in the meantime. Shellfish are cooked when opened. Drain them, keep the liquid in which they were cooked, detach the mussels from the shells and keep a few whole mussels to decorate the dish.
Cut the cleaned cuttlefish into strips. In a large skillet, heat a little oil with two cloves of garlic, add the cuttlefish and sauté over high heat for three to four minutes until lightly browned. Add the white wine, allow to evaporate, then add the tomato puree and the liquid in which the mussels were cooked. Cover with a lid and cook for 25 minutes.
Remove the garlic cloves from the bowl of cuttlefish, add the sliced ​​sea frog and add 8 dl fish stock. Cook over low heat for 10 minutes, then add the fillets of white fish and prawns, cook gently for another 5 minutes.
Season with salt and pepper to taste, cook for another minute, then turn off the heat and add the mussels to the broth.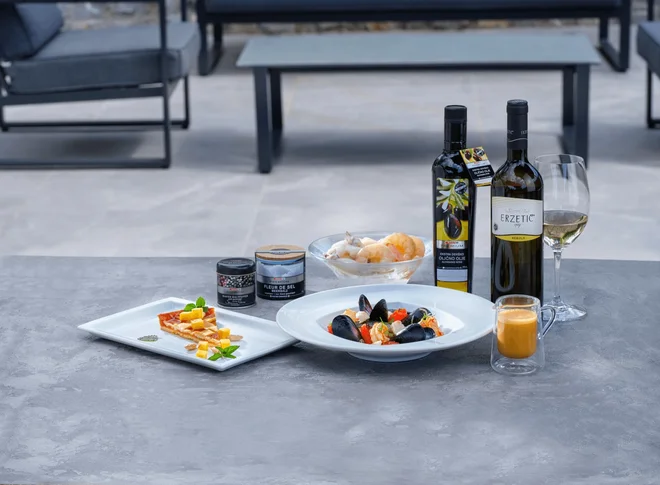 PHOTO: SPAR Slovenia
Looking for even more inspiration?
Find all their recipes on the site jedel.biwhere the chefs have also added some precious master secrets for an even better dish.
Choose products SPAR PREMIUM and allow yourself to co-create whole new culinary stories.
---
Client of advertising content is SPAR Slovenia
.