Fish is a great addition to the daily menu, so it is right to pay more attention to it when preparing a dish. Delicious fish dishes will provide us with minerals and vitamins, proteins and essential fats.
Even if you don't have your own fishing gear and don't want to sit by the river with a fishing rod in your hand, you can have fresh fish on the table every day. However, you should still go hunting, to the fish market, where fresh fish and seafood are served daily. What you need to find and catch depends on what you want to eat.
Do you want to grill the fish? Then you can choose almost any fish, cutlets, fillets, squid and octopus. Want to eat cooked fish? Opt for white fish. For frying, especially small fish, fillets and chops.
How to recognize fresh fish?
If possible, buy as much fresh fish as possible. Ask the seller how long you can keep them at home, otherwise it is better to prepare them the same day or keep them in the refrigerator overnight. Fresh fish contains:
clear, bulging and shiny eyes,
smooth and radiant skin,
bright red gills,
firm and elastic flesh and
pleasant smell of the sea.
Simple and delicious fish recipes
Try some simple recipes with fish dishes that will convince you to put fish on your menu more than once.
Ingredients :
2 rainbow trout fillets
spoon of mustard
pepper
a few sliced ​​young potatoes
a few unpeeled beetroots
olive oil
floor
For the breading:
a cup of rolled oats
a few tablespoons of breadcrumbs
1 teaspoon ground red pepper
a pinch of salt
20 g of parmesan
For the sauce:
a jar of sour cream
spoonful of chives
floor
pepper
Preparation:
Even sliced ​​red beets and potatoes are placed in a baking dish, sprinkled with olive oil and salt and baked for 50 minutes at 210 degrees Celsius.
Combine breading ingredients in a bowl. Coat the rainbow trout fillet with mustard, pepper and sprinkle with the breading mixture. Place the fillet in a baking dish and bake for 20 minutes at 210 degrees Celsius.
Peel a squash, grate it and pour in the olive oil. Rainbow trout is served with beets, baked potatoes and cream sauce.
Rainbow trout is a species of trout that originally lived only in the Pacific Ocean and in North American lakes west of the Rocky Mountains. It is an excellent river fish very popular at spring and summer picnics. It is most often prepared a la Trieste – with garlic and parsley, it is also very popular on the grill and smoked.
Ingredients :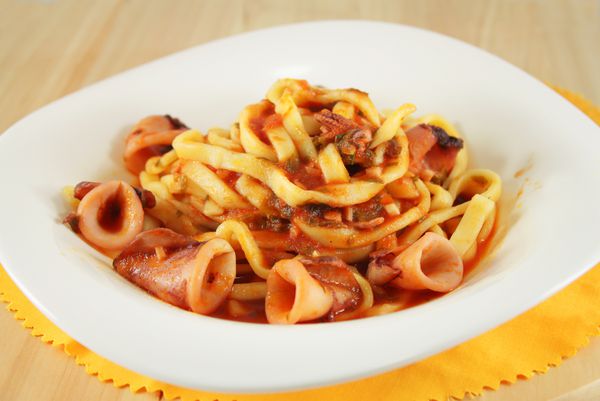 200g calamari
200g peeled tomatoes
4 sardine fillets
200g aubergines
1 tablespoon of capers
1/2 dl of white wine
3 tablespoons of olive oil
400g noodles
Preparation:
Fry the diced aubergines in olive oil. Add the chopped fillets and capers and pour over the wine. When the wine is cooked, add the peeled tomatoes. Season and cook a little. We especially well soak squid and cut them into rings. Pour a little olive oil in a hot pan and sauté the calamari. Stir the cooked and drained pasta into the sauce and serve on a plate and sprinkle with roasted calamari.
Squids are among the tastiest cephalopods, the best in winter. The most tender and prized are the Patagonian squids, and we rank high the Adriatic squids, which are generally a bit larger and thicker meat and therefore the most suitable for grilling. Squids are best grilled or breaded, they are also very popular in risottos, pastas, stuffed dishes and salads. Squid only takes a short time to prepare, so don't overcook it.
Ingredients :
500g salmon fillet
1 teaspoon of salt
1 pinch of pepper
For the pesto:
6 sprigs of parsley
50g peanuts
100 g of parmesan
8g garlic
1 dl of olive oil
0.5 dl lemon juice
Preparation:
First roast the spicy salmon fillet skin side down. Then flip it over and fry it some more to keep it juicy. Meanwhile, grind all the pesto ingredients in a blender and serve with the baked salmon fillet.
Salmon is most often prepared on the grill, pan-fried or simmered. It is very popular in various sauces with gnocchi and pasta. If you bake it in the oven, it is worth buying salmon in one piece, preferably the tail part. For grilling, skin-on fillets or chops work best. A real treat is smoked as an aperitif or for breakfast with butter on toast.
Ingredients :
4 sea bass fillets
3 tablespoons of olive oil
1 teaspoon of salt
1 pinch of pepper
130g mascarpone
1 orange
Preparation:
Season the fillets and cut them into eight pieces. Heat the olive oil in a skillet. On it, quickly roast pieces of fish skin side down. Meanwhile, prepare the cream. Add the orange zest to the mascarpone and mix in four tablespoons of freshly squeezed orange juice and lightly salt and pepper.
Leftover orange flesh is tossed with olive oil and served with roast fish and orange cream. Garnish with herbs.
Non-aromatic white wines that do not overshadow the taste of fish and dry sparkling wine are added to the fish.
Ingredients :
500g prawns
100g butter
1 tablespoon of sugar
1 lemon
1 teaspoon of salt
1 clove of garlic
Preparation:
Melt the butter in a saucepan and add the lemon juice. Before that, grate the lemon zest and add it to the pan. Drizzle the prawns and place them on the hot butter and add a little salt and sugar. Cook them quickly and serve.
You can find other recipes using fish and other seafood on Spar's culinary portal, jedel.bi.
Fish is considered very tasty and healthy, but a good meal also requires the right choice and the right method of preparation.
Top quality fish markets can be found in more than 70 SPAR and INTERSPAR stores, offering a variety of freshwater and saltwater fish, as well as fresh and frozen seafood. Their specialty is the rich selection of Adriatic fish. They always have cleaned fish and fillets in stock and are happy to advise you on how to prepare a delicious fish dish.
SPAR has its own fish distribution center, which allows us to deliver them to stores in the shortest possible time. This way you can be sure that only the highest quality fish and seafood will be on your dining table.
In SPAR you can also find a variety of special offers every day, which are good to check regularly.
[video: 62154 / ]
Read more:
How to choose the best cut of meat?
.