Once again, we will be dealing with one of probably the best known salad classics. So with the imperial salad. Its origin is attributed to an immigrant from Italy Cesar Cardiniwho managed several restaurants in Mexico and America at the beginning of the 20th century.
In the proverbial diversion of raw materials, he composed this delicious and nutritious salad with his own ingenuity, which originally contained large leaves of soft lettuce, anchovies, hard-boiled eggs and vinaigrette.
Today's modified imperial salads, popular around the world, usually contain chicken. As such, then; with lots of vegetables, eggs, cheese and meat and some small carbohydrates will be perfect and just on our plate when we have finished a good workout on the bike or maybe for a late dinner with lots of vegetables and of proteins. Rich in fiber, vitamins and minerals, it will take good care of the supply of lost substances.
Of course, let me add again that you can again play with your favorite ingredients, because the salad will kindly accept any possible combination that comes into your head.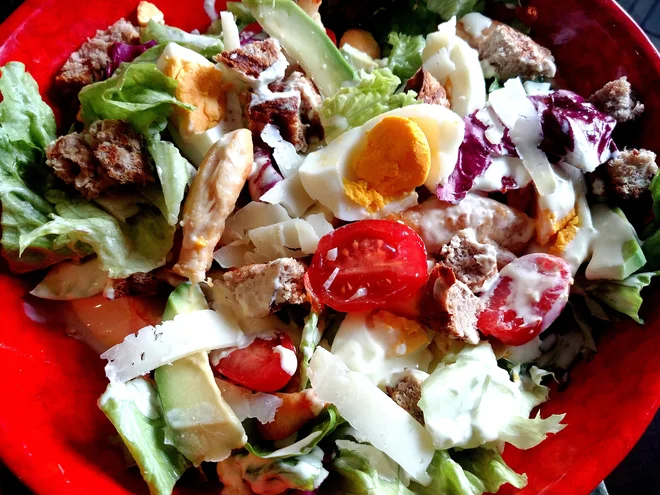 Stealing Recipe: Emperor's Salad. PHOTO: Tanja Drinovec
For two hungry cyclists, we need:
1 medium soft head salad
A few cleaned radicchio and spinach leaves
4 hard-boiled eggs
250g chicken breast
2 handfuls of cherry tomatoes
1 ball of mozzarella cheese
Parmesan Pest
Half a ripe avocado
2 slices of cooking
1 clove of garlic
For garnish :
2 tablespoons olive oil
2 tablespoons mayonnaise
3 tablespoons of yogurt
1-2 garlic cloves
A little lemon juice
Salt pepper
1 tablespoon of mustard
Preparation of the emperor salad:
Wash and tear the lettuce. We cook hard-boiled eggs. Let's clean the tomatoes. Cut the chicken into strips, add salt and fry crispy in oil. From the ingredients for the filling in a grinder, chop and mix all the ingredients for the filling.
Place all kinds of salads and spinach, sliced ​​tomatoes, avocados and eggs, pieces of cheese and chicken on a larger plate. On top of all this we put the chicken and pieces of crispy toast, which we rubbed with garlic and cut into cubes. Dress the salad and season with salt if desired. Finally, pour the filling over everything and sprinkle with parmesan.

.