We've probably all heard of prata, sometimes called budl, but maybe we haven't imagined what it is. So: it is a famous dish, widespread especially at Easter. It is a mixture of dried meat and stale bread combined with beaten eggs. Prata, although rich in flavor, is an economical dish in its own way, because we use the leftovers of yesterday's bread for it. A similar dish is known in various parts of Slovenia, especially in the Gorenjska region.
Prato can be eaten hot or cold. Cut it into thinner pieces and place it, much like a slice of salami or cheese, on bread. However, you can cut a thicker slice and heat it up, like meat cheese or barbecue cheese, and serve it with a bowl of seasonal salad for lunch. Some even swear at Easter that the only real way to eat prata is to serve it alone with potica and horseradish!
When the idea came to the newsroom to write about prata at Easter, we thought for a second Spelo Schaws. Is there anyone else in Slovenia who bakes prato or budl every week and bakes 200 kg of it at Easter? She herself is a really interesting mix – she does a number of tasks in the family butcher's shop, while in her free time she runs hundreds of kilometers and likes to spice up her passion with a charitable note.
What is a bud?
But let's go to the wash first. How is it prepared each week at the Šavs Butchery? "What do I know… As we also sell bread, there is always some left over. So, as soon as I got married and thus got involved in the family business, I decided to offer prata in the butcher shop from old bread and cured meat, which we always have in stock", says Špela. She prepares it according to a recipe given to her by her grandmother: "She was from Šenčur and they called this dish budl. When she made it for Easter, all our grandchildren came to her and the prato, still warm, was eaten immediately. How good was that!"
The recipe he uses is therefore family, but you can also prepare prato, specifies our interlocutor, "with ribs, neck, ham or hub, some even add slices of sausage. It is important to cook and cool the jerky before carving it. The essential ingredient is bread (a day or two old), which is topped either with a mixture of milk and butter, as our interlocutor does, or with water in which dried meat cooked, which will also take care of the juiciness of old bread. "We can also use buns instead of bread," says Špela Šavs.
She has a lot of work these days, since she has to make about two hundred kilograms of this generous mixture. "Then, after Easter, interest subsides a bit, but some want it on White Sunday, which follows Easter," adds the interlocutor, who has been cooking prato every week for a quarter of a century.
Pure pleasure: morning run
Even further, in a way since my late teens, she has been running: "Fifteen years ago, I started running every day and also over long distances. I get up every day at 3:30 a.m. and just after 4 a.m. I'm already running. I run from Preddvor, where I am at home, to Basel, back to my home and back to Basel. After thirty kilometers I go to work and I feel really good, because I have a daily dose of running in the morning. Running in the morning is pure pleasure."
When we talk about prata (and racing) like that, we realize that he sees just as well in big shots – such a famous dish, which he prepares in incredible quantities, as racing, because he is not rare that it has a distance of several hundred kilometers. Because: she ran the demanding Spartathlon (246.8 kilometers), left behind the UltraBalaton (221 kilometers), ran sleepless from the Tatras to Vienna (345 kilometers) and last September, after careful planning , with the help of trainer Rajko Podgornik, also took part in a charity run through Slovenia.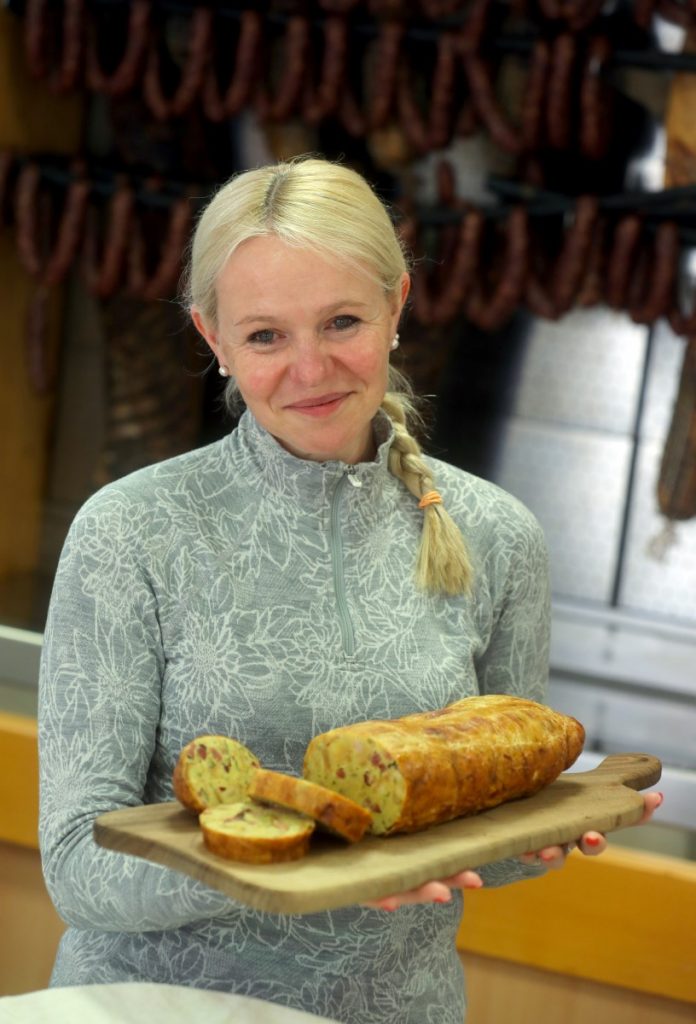 When it all comes together…
When we write "around Slovenia", we literally mean: Špela Šavs traveled 1,125 kilometers along the Slovenian border between 3 and 16 September last year. She added a charitable note to the business by raising money for the Heroes of the 3rd Floor Society. She has already met the heroes and what was the motivation of these children? "They are very inspiring and I was proud to be able to run for them. I go on every long run with someone in the lead who can't do it. And I'm really proud to have been able to race for them this time. I haven't met them yet, but I will meet them these days, when the six kilometer long Hop na Grad trail runs in Ljubljana. We will also see you in May on the rise of the steps of the Crystal Palace. I'm not sure exactly how it's going to be and what it's like to run up the stairs, but I'm looking forward to the challenge because I'll also meet the kids I ran for there in september. It will be something special," says Špela Šavs.
She started the race on September 3 last year, the 30th anniversary of independent Slovenia, on the occasion of her grandson's 10th birthday. "All the numbers hooked up, it was just amazing. And one more thing – when we were planning a race in Slovenia, they asked me if I would be able to. That question wasn't in my head because that I knew I was going to do it. After all, I had a great team with me that allows me to do this, and the most important things in it are my family and my husband Jure, who supports me every step of the way. ."
Our interlocutor spoke a great truth in her own words. The importance of the support we have in the family. Easter is a time when we try not to rush, to calm down and to spend time, which is the most precious unit of our lives, with those we love the most – in family! "I have a lot of respect for this holiday – and for Christmas – that's how I was brought up. Easter means meeting my family. Easter is a tradition, it's potica, prata, pirhi… "We think that it is possible that Špela Šavs will also take place on this holiday – but it will not cross life.
Prata
800 g per day or two of old bread
500 g dried meat
6 eggs (one more if needed)
1 onion
3 tablespoons chopped parsley (green)
2 dl of milk
spoon of butter
2 tablespoons of fat
salt pepper
Preparation
1. Heat the milk and butter until the butter melts. Cool the mixture and pour it over the bread cubes.
2. Then beat the eggs and add them to the soaked bread.
3. Add the cooked and cooled dried meat, which has been cubed, and salt and pepper the mixture. Stir.
4. Finally, add the chopped onion, which has been fried in fat and cooled, and the chopped parsley. Stir again and leave for half an hour or an hour to combine and soak.
5. Fill the cleaned beef intestine with the mixture, but since most of them don't have any, we help ourselves by simply wrapping it in parchment paper, or even pork tenderloin, and cooking. If you don't have any of the above, place the strudel mixture in a baking dish.
6. Bake for about an hour in a preheated oven at 160 degrees. Turn the prato once during cooking so that it cooks well on all sides.
Tip: "It depends on how dry the bread is and the size of the eggs we used, if we will add another one," says Špela Šavs.
Our interlocutor adds: "If we use beef intestine, we take care not to overcook or that the mixture fills the intestine up to three quarters, because the prata will swell during cooking because of the eggs. It is also important to pierce it several times with a toothpick before cooking so that the intestine does not burst. »
We also advise you: The recipe for a good Easter bread is a little different
Photos: Dejan Javornik