Certainly, from the Easter holidays and the copious menus, a piece of ham, pirh and a piece of horseradish remained in the fridge. From all these ingredients you can create with a little imagination your rich and above all tasty protein vegetable salad, which can be served for lunch or a strong and rich dinner if you burn a little more calories in the room. sports or elsewhere.
I've always been a big fan of smoked boiled beef tongue, which is why it was in our salad this time around. If you are not a fan of this somewhat special and atypical specialty in terms of appearance and origin, you can use ham instead.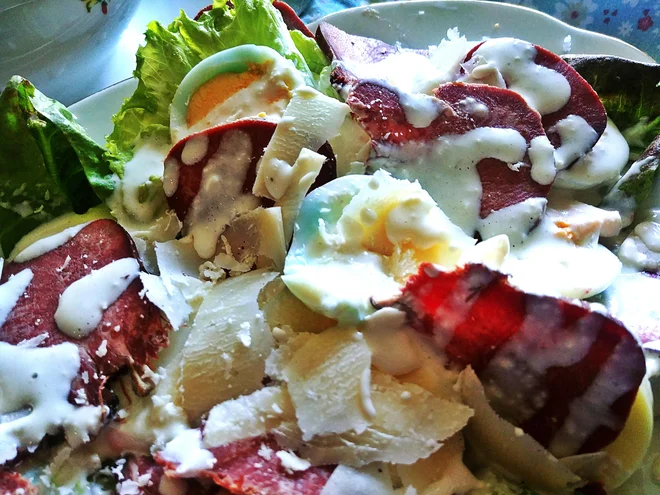 no signature
Lettuce will be a very nutritious rich source of protein and vegetables with them, therefore vitamins and minerals. It can also be said that horseradish is an extremely rich source of vitamin C, it takes care of and regulates good digestion, lowers blood pressure, has antibacterial and detoxifying effects. It usually appears on our menus as a spice or addition and to flavor dishes, and many countries use it as a medicinal plant.
For a large plate of salad we need:
150-200 g thinly sliced ​​boiled beef tongue or ham
300 g of various lettuce leaves
3 hard-boiled eggs
2 fists on sliced ​​Parmesan cheese strips
Salt pepper
Olive oil
For garnish :
Small grated horseradish root
2 tablespoons mayonnaise
A tablespoon of sour cream
A little white wine
Salt pepper
Preparation:
Lettuce leaves are washed and torn. We put thin slices of boiled tongue and slices of boiled eggs in it. Add salt, pepper and a few drops of olive oil. Then prepare the horseradish vinaigrette for the salad. Put the grated horseradish, mayonnaise, sour cream, wine, salt and pepper to taste in the chopper. Pour the garnish over our salad and finally sprinkle with grated parmesan.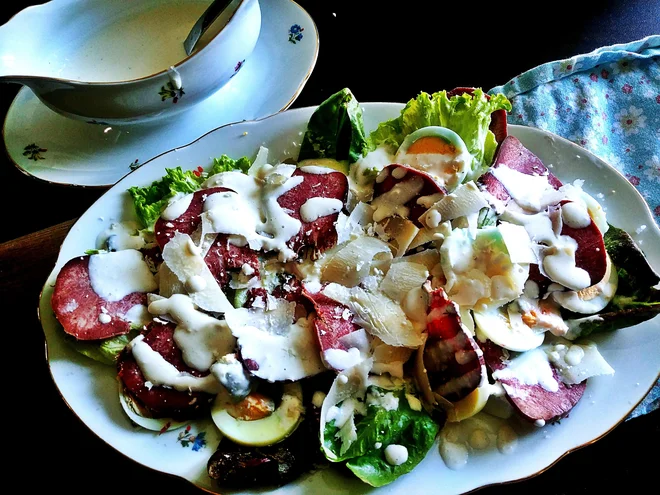 no signature