The time of year is approaching when the salad will become the greatest ally of our homemade menus. It is a dish that does not know many rules, but above all a lot of creativity.
Salads can be a common addition to a main dish, and they are increasingly being served as a stand-alone meal. It can be prepared from a single ingredient or you can take a break and mix it with various additives – sweet, salty, dairy, meat, fish… there is no rules here and this opportunity to experiment with your taste is the main advantage of the best salads. So be bold and give yourself a little more freedom in pairing flavors.
And to truly be a real blast for your palates, follow our four guides and become the king and queen of house salad masterpieces.
To evoke authentic flavors, choose local and seasonal ingredients. Soon, the vegetable gardens will be generous with fresh vegetables, spices and produce that you can easily mix into your house salad.
You can caramelize the fruit first in a pan or simply slice it into a salad. Also in this case, the rule of seasonality should apply when choosing different combinations. The fruit also pairs well with nuts and cheeses.
Some delicious combinations with fresh fruit:

baby spinach, strawberries, avocado and slivered almonds

peach, blueberry, arugula, lettuce and cottage cheese

pears, arugula and chickpeas

lettuce, green apples and walnuts

lettuce, arugula, avocado and raspberries
We usually add canned tuna and chicken to the salad, and a great alternative to that is roasted salmon, shrimp, fried bacon, and sliced ​​beef. It can also be enriched with different types of cheese – from soft and mild to spicy and noble mold. Vegan versions add tofu. Legumes and avocados are also excellent sources of protein.
For a delicious salad, it is not only the right combination of quality vegetables that is crucial, but also the choice of the right vinegar. Check which salads are served with different types of vinegar:
Balsamic vinegar for tomato salads: The king of vinegars is a noble version of ordinary vinegar, which gourmets do not only use in tomato or leaf salad with green lentils, it is often chosen as an obligatory spice after cooking. In soft dishes it evokes a strong aroma, so it is also suitable as a complement to bread, risottos and pasta. Good taste Natureta Balsamic Vinegar goes very well with olive or walnut oil.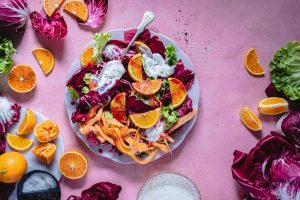 salad
1 head of chicory
½ head of lettuce
1 carrot
1 large or 2 small oranges
2 tablespoons Natureta beetroot
2 tablespoons of Natureta beetroot juice
olive oil
balsamic vinegar
salt pepper
2 tablespoons of Greek yogurt
2 teaspoons horseradish with Natureta cream
juice of half an orange
1 tablespoon olive oil
salt pepper
Wash the radicchio and lettuce and tear them into small pieces.
Wash the carrots and grate them into long noodles with a grater.
Wash the orange and cut it into slices.
Prepare the horseradish sauce by mixing all the ingredients.
Let's start assembling the salad.
Arrange the radishes and lettuce on a plate.
This is followed by the stacking of carrots and beets.
Add orange slices.
Then season with beet juice, olive oil, balsamic vinegar, salt and pepper.
Serve with horseradish sauce.
Vinegar for all types of salads: Due to the beautiful red color and strong smell wine vinegar works well for seasoning all kinds of salads, sour soups and dark sauces. It gives strength to salads, and many meat dishes have a slightly sour aroma. It is suitable for seasoning strong leafy salads and for marinating beef and venison. Instead of apple cider vinegar, use it in a salad with motovilc and beans, it will work well in a simple salad with white or Chinese cabbage, as well as in a combination of beetroot with feta cheese.
Grandma's classic kitchen: A bowl of homemade crystals with good apple cider vinegar is a staple of many Sunday lunches prepared according to grandmother's recipes. Good old free-range apple varieties offer an authentic, vinegary flavor that also has many health benefits. Combined with floral or forest honey, it works great as a dressing with kohlrabi, red cabbage and carrots.
Lemon juice for summer salads: Don't like the intense acidity of regular vinegars? Lemon juice suitable not only for lemonades and smoothies. Enrich a variety of salad bowls filled with fresh and roasted vegetables with pressed citrus juice. Pour it over roasted cauliflower or broccoli, add a sprinkle of roasted eggplant, it will also make a light Greek salad with olives and fresh basil leaves. A salad of grated carrots, Brussels sprouts and radishes will also be a great addition, not to mention summer side dishes with fish.
100g dandelion greens
1 cup cooked mash
1 carrot
½ fresh red peppers
½ canned natureta beans
first seed mix (sunflower, pumpkin, flax ()
50 g feta or brine
3 tablespoons partially ground Natureta mustard
3 tablespoons apple cider vinegar but lemon juice
3 tablespoons of honey
5 tablespoons of olive oil
3 tablespoons of water
½ teaspoon garlic powder
Wash the dandelion, drain it and transfer it to a larger bowl.
Fry the selected seeds over low heat until fragrant.
Remove the pan from the heat and let the toasted seeds sit for a while.
Wash the carrots and grate them finely with a scraper, and cut the red pepper into pieces of any size.
Rinse canned peas under running water and drain.
Combine mustard topping ingredients in a glass or mug.
Mix a cup of the chilled cooked mash, peas, grated carrots and paprika with the dandelion, then pour the mustard mixture over the salad mixture.
Mix everything thoroughly.
Serve the rainbow salad on a salad plate and sprinkle with grated cheese and roasted seeds.
Become a real master of salads with quality natureta vinegars, which will undoubtedly be the real highlight of your creations. Get to know them and evoke your favorite flavors.
Customer of advertising content is ETA Kamnik