This time and after a long time, we will once again tackle one of the salad classics. The Waldorf salad is on the program. An unjustly overlooked (I think) salad was made at the end of the 19th century. At the opening of an elite hotel Waldorf Astoria in New York. The staff manager at the time, in a hurry and short of food, ran out of ingredients that were still available and this salad was prepared. They were delighted with her.
Read more:

Simple cycling spaghetti

There is no movement without sugar
The salad also hit one of New York's top editors and butlers. Oscar Tschirky he gained eternal fame from it, and at one point slapped the big hotel bosses of the time. The salad then underwent many derivations and was also inspired by one of the biggest and most famous fast food restaurants.
The salad is interesting because it consists of perhaps a little unusual ingredients: apple, celery, walnuts and mayonnaise. The variety is of course unlimited. May be strange at first glance, but worth a try. The salad is a very good refreshment especially for winter days with nuts and ingredients that dominate in winter.
Of course, we cannot ignore health. Almighty, proverbially wholesome green apples, superior nuts and cranberries. Salad will be a wonderful vitamin and calorie spice for winter days.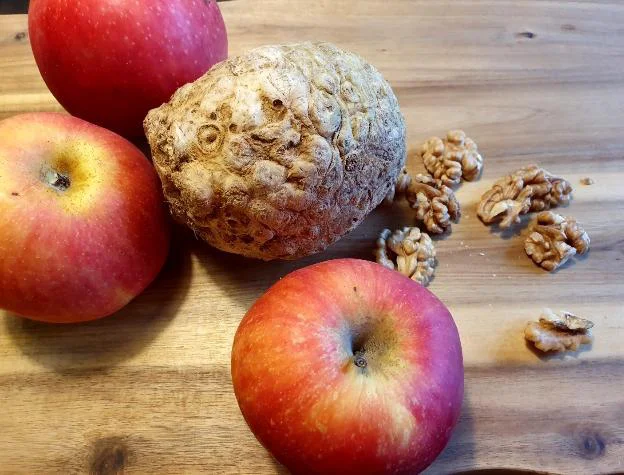 Photo: Tanja Drinovec
For 2 to 3 people we need:
2 peeled apples chopped
A quarter of the chopped celery tuber
2 handfuls of coarsely chopped walnuts
A handful of cranberries or raisins of your choice
2 handfuls of chopped sheep's cheese (optional)
Salt pepper
Lemon juice
A little olive oil
2 tablespoons mayonnaise
1 tablespoon of sour cream
Preparation:
Peeled and finely chopped apples and greens shake in a bowl. Add nuts, cheese and cranberries. Then season with salt and pepper. Add a little more oil, mayonnaise, lemon juice and sour cream. Mix well and leave the salad in the refrigerator for a while before serving.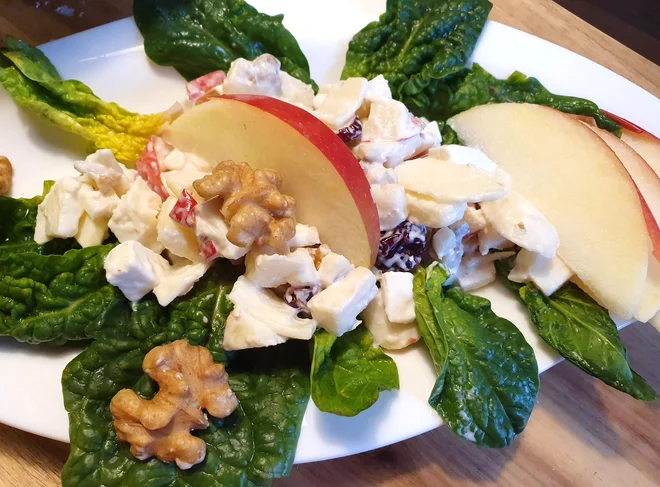 Photo: Tanja Drinovec
***
Tanja Drinovec, she used her architecture studies to make the best sweets, food is her passion, she sees sport beyond food when she's not cooking, she designs jewelry and then she rides a bike. She is the mother of three children.

.